Photo via, editing and text by me.
I've only actually started to look at other blogger's blogs since last week. However, I've found quite a lot that I really like. So, without further ado, let us proceed, not in any particular order:
How we 'met' was kinda like quite coincidental. First of all, when I commented on her blog, she already had opened my blog in a tab and was going to follow. Then the next day (for me), she gave some feedback on my blog, including adding a 'read more' tab so the posts are shorter in the home page. Guess what? At the exact time, I was editing my HTML template, trying to add a 'continue reading' button!
When I asked for it, Vivian gives really comprehensive, informative feedback, yet the tone is helpful and friendly. I like her blog name 'Day-Dreamer, Night Thinker' because it kind of describes me as well-my mind never seems to stop cranking, even when I lie on my bed at night, I can feel the gears whirling in my brain, cranking out ideas...
Anyway, her book reviews are really amazing too (compared to myself who can't properly write a book review.. yet). The other posts are filled with colourful photos.
What are you waiting for? Go check out her blog, leave a friendly comment, make someone's day!
Cool yet simple button
I got to know more about being a martial artist through Shay's 'What does it mean to be a Martial Artist?' series. His recent posts about important current events such as the
Migrant Crisis
,
Animal Captivity
,
Sexism
are refreshing and informs the reader of his point of view, which is rather clear.
Other bloggers (including myself) should try their hand at blogging about some current events. It doesn't have to be the complicated ones, just simple day-to-day topics that we all are involved in.
3. Vannessa from Simply Me
First impression: Wow, her blog's really cute!
And you might know that I'm not a fan of 'cute blogs' with all that pink and fluffy unicorns, but this is one of the exceptions. It's cute
and
minimalistic, which is what I like. Her posts vary-some are fun and interesting, like
Theme Song for Ages
, while some are deep and speaks to many, like
Dwelling & Worrying
.
And
she makes an effort to reply the comments her readers post, which is an attribute I greatly admire but not many bloggers possess.
4. Noor at A Little Bit of Sunshine Blog
I read about Blogtober from her blog, and her posts are amazing, superb, for her age.
5. Mackenzie at think.eat.write.read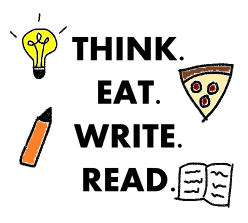 Awesome blog title. Cool blog posts. One of the many things I like about her is that she welcomes guest posts, asking for them so that she can interact more with her readers. This is what I would like to do too, sometime in the future.
(Update: I know you guys must think I've gone slightly bonkers-"in the title and picture you put 'Top 6 Favourite Bloggers', yet you only listed 5?"
Yeap. I just realised that, so I'm adding one more to the list here:)
6. Ash at A Piece of My Sky
Ash is one of the first few bloggers I've known since I created this blog. I really like her
Random Scribblings
, they give us readers a chance to look into her mind. Some of them are short stories which are like little gems and makes me look forward to the next one. And she's really friendly and nice, a comment from her makes one's day :)
In football (soccer), there are 11 players in each team. The fans are addressed as the 12th player, for being a part of the team. You
all
are my 7th favourite bloggers. Here's some of the links to awesome bloggers and their blogs:
Abby at
Abby and the Pens
Yasmine at
Cloudy
Leah at
Princess Leah
Stacy at
my little talks
Kiki at
kiki
EJ at
EJ's Blog
Lea at
The nobody's place
M at
The Life of Little Me
that crazy giraffe at
that crazy giraffe